It's difficult for me to comprehend that Zero Zero have only really been around as a music making, hip swinging machine for six months. I can't even count the number of their shows I've been to, how many times I've listened to their album MAYDAY or how it feels like they've always been around somehow, making this addictive sound. A day does not go by where, at some point, a song by Zero Zero enters my mind and it could be any of them, all eight released (nine if you include the Christmas song) so far are up for grabs. Now it helps that I heard the album long before last October's release so I've had a little more time with these tunes than most, but nevertheless, whether it's four months or seven months, the power, hold and hook of these songs are pretty impressive. In the four months since the release they have also been pretty productive and prolific in the video department for the singles they've released. Below, are the first three videos from Zero Zero and I hope that there are many more. I have already imagined an entire film for "Go" (ala Fellini), because the first night I heard it, it was an all nighter at a rooftop hotel pool party in Phoenix and my experience matched the lyrics word for word. Nevertheless, I digress, here is the videography, thus far, of one of our true local treasures, Zero Zero.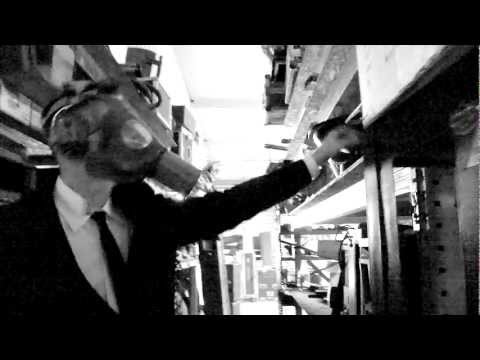 "Drug" -September 2012
Released a few weeks before the album and premiered at FilmBar during an exclusive album listening party, this is the video that started it all. I first heard this song over Karen Walker's (their publicist) cell phone at the Sail Inn last summer–and I was immediately hooked. The Love Me Nots were the second or third local band I had ever written about and I had been a fan from that moment on, but see Nicole and Michael apply themselves to something completely new and different was instantly exciting. I had no idea at the time just how exciting it would be. This video is a hell of a calling card and visually immaculate in its presentation of both the band and the song itself. It comes off as a cinematic short in both the filming and the editing, announcing the presence of Zero Zero to the world. The Gas Mask is a nice touch, as though love must be handled by the CDC as a contagion…and maybe it should be. It is amazing to watch this five months on after hearing how their songs have progressed and gotten heavier–now Nick Ramirez' drums pound you to oblivion and Walker's guitar sets you on fire, while, of course Nicole Laurenne's vocals and keys are better than ever.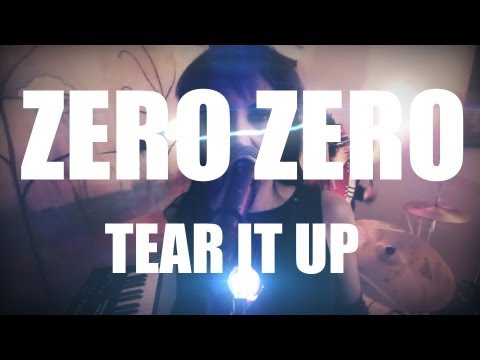 "Tear It Up" (The Clarendon Party Edit) – December 2012
This is, as far as I can tell, an "unofficial" video, but it may be my favorite of the lot. First of all, when it came out, I didn't even realize it was a vid, thought it was just a live capture and didn't watch it until a few weeks ago after, again Karen Walker informed me about what I was missing out on. Her exact words were, "You haven't seen the Clarendon video yet!?! It's so good." Needless to say, that night upon getting home I watched it immediately and understood what she was talking about. "Tear It Up" is also a pretty special song for me, because I got to release it exclusively on August 1, 2012 and it ended up breaking this site within 23 hours for the amount of downloads and connections–I was never more happy about a technological failure in my life. It is still one of my favorite songs from the album and every time they open the set with it, I can't help but smile. For one thing, this video shows of the live frenzy that is the band in close quarters, for another, Ramirez in a marching band outfit is absolutely priceless. The only thing I can't figure out was how did I miss this gig??? Nicole looks dangerous, Michael looks like a guitar god and Nick looks like the madman he really is. Pure brilliance.
"The Pink Ones" – February 2013
For those of us who were privileged to be there, this past Saturday night Zero Zero premiered their video for "The Pink Ones" at the Monarch Theatre after their incendiary show. First of all, more bands need to play the Monarch, because, as of yet, I'm not sure that any other venue in town can match the sound system of this place–it is an unholy setup and Zero Zero has never sounded better…ever, and I think I've seen them at nearly every venue they've ever played. "The Pink Ones" is indeed one of the songs I find filtering through my thoughts on a regular basis and I was glad to see it placed as the third single. The video is pretty spectacular as we find our rockers surfside and honestly, if Zero Zero doesn't get an endorsement from Ray-Ban (my personal preference in eyewear as well) then that will entirely be Ray-Ban's loss, because this crew looks amazing in their Wayfarers. The photogenic appeal of this trio alone is amazing, but there is also an amazing, infectious song to back it up. Priceless moment? Michael killing it on guitar with the sun setting behind him. The entire thing is great and makes you hope that the five remaining songs on their debut will get the video treatment as well. As one of the most impressive releases of 2012 and in my mind, the greatest debut of last year, Zero ero should have a video for every song on MAYDAY, because years from now it would be cool to pick up the deluxe edition with a DVD of all the videos to match the CD of all the songs. I call dibs on writing the liner notes.